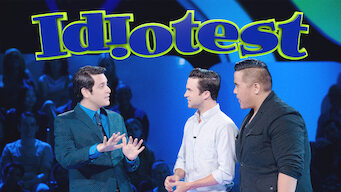 Is
Idiotest: Idiotest: Season 1 (2014)
on Netflix Austria?
1 / 5 (compiled from 1 review source)
Competition Reality TV, TV Shows, TV Comedies, Reality TV
Synopsis
Comedian Ben Gleib hosts this game show in which teams of two compete to solve increasingly tough brain teasers. Faster answers mean more money. Thinking through these tricky questions could earn you some cash. But what makes you think you're not an idiot?
Unable to Watch without Unlocking
Idiotest: Idiotest: Season 1
Season 1 of Idiotest has 20 episodes. Because different Netflix countries have different availability for episodes, you'll need to check the episode listing below to see which are available in Austria.
You can also click on any episode below to get more information on which Netflix countries it is available in.