Yes, Last Exit to Brooklyn is available on Netflix in Austria, but did you know you can unlock thousands of movies and shows not currently available in Austria? The release date for Netflix Austria was December 5th 2018, and here are the dates it was released on Netflix in other countries:
Netflix Germany: Released on December 5th, 2018
Netflix Switzerland: Released on December 5th, 2018
Check out this sample list of movies you can unlock through American and International Netflix, including "In the Loop (2009)", "Jackie Brown (1997)", and "The Wrestler (2008)"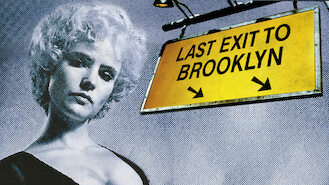 Last Exit to Brooklyn
1989
A prostitute falls for one of her customers, an Army officer from the Midwest about to ship out for Korea, in this dark drama set in 1950s Brooklyn. Drugs, prostitution, thievery, booze, and violence. In this part of Brooklyn, it's just another day.
Cast
Stephen Lang

Jennifer Jason Leigh

Burt Young

Peter Dobson

Jerry Orbach

Stephen Baldwin

Bernard Zette

Alexis Arquette

Jason Andrews

Sam Rockwell

Maia Danziger

Camille Saviola