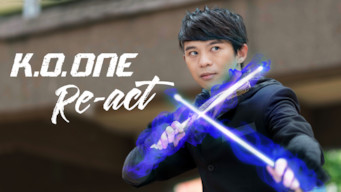 Is
K.O. One Re-act: 終極ㄧ班3 (2013)
on Netflix Brazil?
1 / 5 (compiled from 1 review source)
Brazilian Netflix Release: May 15, 2019
Chinese TV Shows, TV Dramas, TV Comedies, TV Sci-Fi & Fantasy, Taiwanese TV Shows
Synopsis
As a guardian of space-time order, 28-year-old Wang Dadong returns to Bale High School to investigate an anomaly and clashes with King. There's trouble in the Gold Dimension. Now he's going backwards in time -- as a 28-year-old dropout at his old school.
Watch on Netflix
Cast
Jiro Wang, Pets Tseng, Sam Lin, Sylvia Wang, Wes Lo, Wayne Huang, Xu Ming-jie, Ba Yu, Emily Tsai, Chen Bor-jeng, Nylon Chen, Na Wei-hsun
K.O. One Re-act: 終極ㄧ班3
Season 1 of K.O. One Re-act has 20 episodes. Because different Netflix countries have different availability for episodes, you'll need to check the episode listing below to see which are available in Brazil.
You can also click on any episode below to get more information on which Netflix countries it is available in.