Yes, One Day at a Time, Season 3 is available on Netflix in Denmark, but did you know you can unlock thousands of movies and shows not currently available in Denmark? The release date for Netflix Denmark was February 9th 2019, and here are the dates it was released on Netflix in other countries:
Netflix Belgium: Released on February 8th, 2019
Check out this sample list of movies you can unlock through American and International Netflix, including "Parks and Recreation (2009-2011)", "It's Always Sunny in Philadelphia (2005-2013)", and "Terriers (2010)"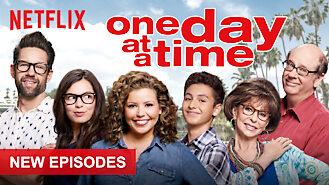 One Day at a Time, Season 3
2017
In a reimagining of the TV classic, a newly single Latina mother raises her teen daughter and tween son with the "help" of her old-school mom. A single mom, two kids and a feisty grandma. Three generations under one roof. Their home: hectic. Their hearts: huge.
Cast
Justina Machado

Rita Moreno

Todd Grinnell

Isabella Gomez

Marcel Ruiz

Stephen Tobolowsky