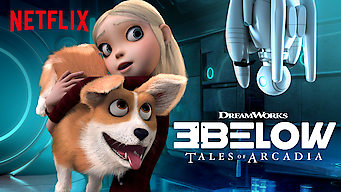 Is
3Below: Tales of Arcadia: Part 1 (2018)
on Netflix Egypt?
1 / 5 (compiled from 1 review source)
Egyptian Netflix Release: December 21, 2018
TV Action & Adventure, Kids' TV, TV Cartoons, Family Watch Together TV, TV Sci-Fi & Fantasy
Creator(s): Guillermo del Toro
Synopsis
After crash-landing on Earth, two royal teen aliens on the run struggle to blend in with humans as they evade intergalactic bounty hunters. They barely escaped a coup on their home planet. But nothing could have prepared them for high school life in Arcadia.
Watch on Netflix
Cast
Tatiana Maslany, Diego Luna, Nick Offerman, Nick Frost, Glenn Close, Alon Aboutboul, Hayley Atwell, Darin De Paul, Andy Garcia, Cheryl Hines, Tom Kenny, Chris Obi, Cole Sand, Frank Welker, Steven Yeun
3Below: Tales of Arcadia: Part 1
Season 1 of 3Below: Tales of Arcadia has 13 episodes. Because different Netflix countries have different availability for episodes, you'll need to check the episode listing below to see which are available in Egypt.
You can also click on any episode below to get more information on which Netflix countries it is available in.