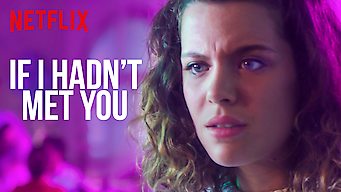 Is
If I Hadn't Met You: Season 1 (2018)
on Netflix Finland?
1 / 5 (compiled from 1 review source)
Finnish Netflix Release: March 15, 2019
TV Dramas, TV Sci-Fi & Fantasy, Romantic TV Shows, Spanish TV Shows
Synopsis
Eduard, a husband and father who loses his family in a tragic accident, travels to parallel universes to seek a better fate for his beloved wife. Their love for each other spans an infinite number of alternate universes. But is it doomed in every single one?
Watch on Netflix
Cast
Pablo Derqui, Mercedes Sampietro, Andrea Ros, Javier Beltrán, Paula Malia, David Vert, Muguet Franc, Miquel García Borda, Berta Garcia, Joel Bramona, Montse Guallar, Abel Folk, Sergi López, Òscar Jarque, Eli Iranzo
If I Hadn't Met You: Season 1
Season 1 of If I Hadn't Met You has 10 episodes. Because different Netflix countries have different availability for episodes, you'll need to check the episode listing below to see which are available in Finland.
You can also click on any episode below to get more information on which Netflix countries it is available in.