Yes, Monsieur Papa is available on Netflix in France, but did you know you can unlock thousands of movies and shows not currently available in France? The release date for Netflix France was December 5th 2018, and it's currently not available on Netflix in any other countries.
Check out this sample list of movies you can unlock through American and International Netflix, including "Russian Dolls (2005)", "Mesrine: Part 1: Killer Instinct (2008)", and "Mademoiselle Chambon (2009)"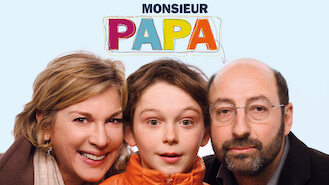 Monsieur Papa
2011
An overwhelmed CEO, who is also a single mom, hires a down-and-out former employee to pose as her rebellious pre-teen's long-lost dad. He needs a job. She needs a father for her son. Now, these two strangers must find a way to somehow resemble a family.
Cast
Michèle Laroque

Kad Merad

Gaspard Meier-Chaurand

Vincent Perez

Florence Maury

Emmanuel Patron

Patrick Bonnel

Myriam Boyer

Yujuan Liu