Yes, San Antonio is available on Netflix in France, but did you know you can unlock thousands of movies and shows not currently available in France? The release date for Netflix France was December 6th 2018, and it's currently not available on Netflix in any other countries.
Check out this sample list of movies you can unlock through American and International Netflix, including "Last Holiday (2006)", "Mesrine: Part 1: Killer Instinct (2008)", and "Mesrine: Part 2: Public Enemy #1 (2008)"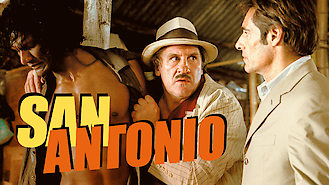 San Antonio
2004
Suave detective Antoine San Antonio is pitted against his lecherous partner Bérurier on their biggest case yet: the kidnapping of France's president. The president has been kidnapped and there are only 48 hours left to find him. Only one man can get the job done.
Cast
Eriq Ebouaney

Robert Hossein

Michel Galabru

Gérard Depardieu

Barbara Schulz

Luis Rego

Michèle Bernier

Patachou

Gérard Lanvin