Yes, Worst Cooks in America, Season 1 is available on Netflix in France, but did you know you can unlock thousands of movies and shows not currently available in France? The release date for Netflix France was December 6th 2018, and it's currently not available on Netflix in any other countries.
Check out this sample list of movies you can unlock through American and International Netflix, including "Hannibal (2013)", "Tyrant (2014)", and "Portlandia (2011-2013)"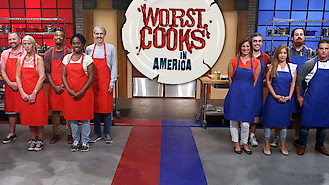 Worst Cooks in America, Season 1
2012
America's worst cooks square off for the chance to win $25,000 as they develop their skills in the kitchen with help from culinary mentors. These home cooks can barely boil water. But celebrity chefs are ready to turn disasters into masters.
Cast
Anne Burrell

Rachael Ray

Bobby Flay

Tyler Florence