Yes, Teppanyaki is available on Netflix in Hong Kong, but did you know you can unlock thousands of movies and shows not currently available in Hong Kong? The release date for Netflix Hong Kong was February 4th 2019, and here are the dates it was released on Netflix in other countries:
Netflix Singapore: Released on February 5th, 2019
Netflix Taiwan: Released on February 4th, 2019
Netflix Philippines: Released on February 4th, 2019
Netflix Thailand: Released on February 4th, 2019
Check out this sample list of movies you can unlock through American and International Netflix, including "Withnail and I (1987)", "Manhattan (1979)", and "Some Like It Hot (1959)"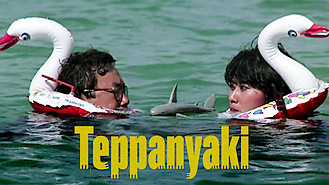 Teppanyaki
1984
After booking a "business trip" with his paramour, a chef must pull off a double act when his wife and father-in-law invite themselves along. A nagging wife. A trigger-happy in-law. A holiday with his mistress to get away from it all. What can spoil the scenery?
Cast
Michael Hui

Sally Yeh

Frances Yip

Lo Hoi-pang

Mei-Yi Tsou

Michael Lai

David Cheung

Ying Sau Hui

Paul Che