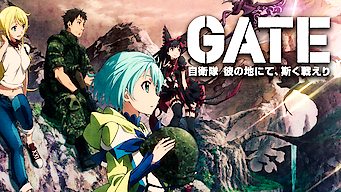 Gate: Season 1
Netflix India
1 / 5 (compiled from 1 review source)
Indian Netflix Release: January 31, 2019
Japanese TV Shows, Anime Series, Anime Action, Anime Sci-Fi & Fantasy, Anime Based on Light Novels
Synopsis
After a portal to another world appears in Ginza, JSDF reservist Yoji Itami is sent to investigate the fantastical lands on the other side. Goddesses, elves and sorcerers sound like something out of his favorite manga, but in this other world, they're real.
Watch on Netflix
Cast
Junichi Suwabe, Hisako Kanemoto, Nao Toyama, Risa Taneda, Haruka Tomatsu, Yoko Hikasa, Maaya Uchida, Hiroki Yasumoto, Kaito Ishikawa, Katsuyuki Konishi, Ami Koshimizu, Rina Hidaka
Gate: Season 1
Season 1 of Gate has 24 episodes. Because different Netflix countries have different availability for episodes, you'll need to check the episode listing below to see which are available in India.
You can also click on any episode below to get more information on which Netflix countries it is available in.