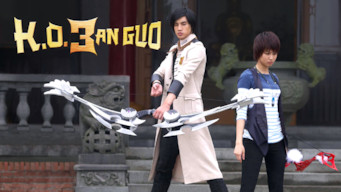 Is
K.O.3an Guo: 終極三國 (2009)
on Netflix Japan?
1 / 5 (compiled from 1 review source)
Chinese TV Shows, TV Comedies, TV Sci-Fi & Fantasy, Taiwanese TV Shows
Synopsis
In the Silver Dimension, Liu Bei, Guan Yu and Zhang Fei plan to enroll in an elite academy as sworn brothers, but KO One visitors derail the plan. A boulder falls and there's trouble in the universe. But it's nothing compared to the trials and tribulations of school.
Unable to Watch without Unlocking
Cast
George Hu, Chen De-xiu, Bo Yan, Lorene Ren, Tsai Yi-chen, Benjamin H. Wang, Wes Lo, Shao Xiang, Pets Tseng, Nylon Chen, Wu Xiong
K.O.3an Guo: 終極三國
Season 1 of K.O.3an Guo has 42 episodes. Because different Netflix countries have different availability for episodes, you'll need to check the episode listing below to see which are available in Japan.
You can also click on any episode below to get more information on which Netflix countries it is available in.