Yes, Mob Psycho 100, Season 2 is available on Netflix in Japan, but did you know you can unlock thousands of movies and shows not currently available in Japan? The release date for Netflix Japan was January 11th 2019, and it's currently not available on Netflix in any other countries.
Check out this sample list of movies you can unlock through American and International Netflix, including "Alice & Zoroku (2017)", "Basilisk: The Ouka Ninja Scrolls (2018)", and "Hakyu Hoshin Engi (2018)"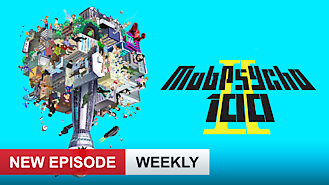 Mob Psycho 100, Season 2
2016
Middle schooler Shigeo looks normal, but he's secretly a formidable psychic whose powers threaten to break free unless he represses his emotions. He may look like a background character and want to live a normal life, but his mental abilities are too great to deny.
Cast
Setsuo Ito

Takahiro Sakurai

Akio Otsuka

Miyu Irino

Yoshitsugu Matsuoka

Yoshimasa Hosoya

Ayumi Fujimura

Atsumi Tanezaki

Uki Satake