Yes, Wasabi is available on Netflix in Japan, but did you know you can unlock thousands of movies and shows not currently available in Japan? The release date for Netflix Japan was January 10th 2019, and it's currently not available on Netflix in any other countries.
Check out this sample list of movies you can unlock through American and International Netflix, including "Midnight Run (1988)", "The Legend of Drunken Master (1994)", and "Rumble in the Bronx (1995)"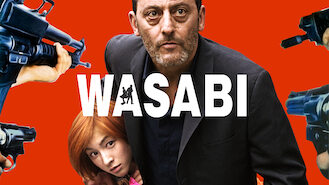 Wasabi
2001
When a French detective is summoned to Japan to attend his former flame's funeral, he discovers that she left him a daughter he never knew about, $200 million in stolen yakuza money and ... a pack of mob assassins on his tail.
Cast
Jean Reno

Ryoko Hirosue

Michel Muller

Carole Bouquet

Yoshi Oida

Christian Sinniger

Alexandre Brik

Jean-Marc Montalto

Ludovic Berthillot

Yan Epstein

Michel Scourneau