Missing in Action is not available on Netflix in the Netherlands, but it can be unlocked and watched on Netflix anywhere worldwide! No release date has been given yet for when it might be available on Netflix in the Netherlands, but here are some countries where it can be streamed online, along with the release date for each country:
Netflix UK: Released on April 23rd, 2015
Netflix Ireland: Released on April 22nd, 2015
Check out our steps for watching Missing in Action from the Netherlands through Netflix UK, plus watch American Netflix, through many other countries and more than double your Netflix catalogue!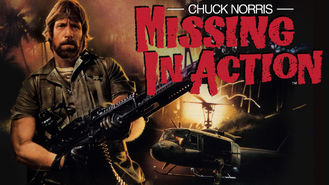 Missing in Action
1984
Haunted by memories of his tour of duty in Vietnam, retired Army Col. James Braddock joins a delegation returning to the country to negotiate the release of American prisoners of war. But upon his arrival, the communist government betrays Braddock.
Cast
Chuck Norris

M. Emmet Walsh

David Tress

Lenore Kasdorf

James Hong

Ernie Ortega

Pierrino Mascarino

Erich Anderson

Joseph Carberry