The Twilight Samurai is not available on Netflix in the Netherlands, but it can be unlocked and watched on Netflix anywhere worldwide! No release date has been given yet for when it might be available on Netflix in the Netherlands, but here are some countries where it can be streamed online, along with the release date for each country:
Netflix Japan: Released on November 22nd, 2015
Check out our steps for watching The Twilight Samurai from the Netherlands through Netflix Japan, plus watch American Netflix, through many other countries and more than double your Netflix catalogue!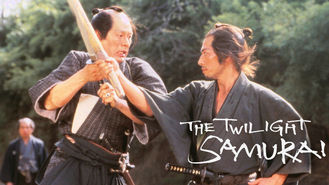 The Twilight Samurai
2002
Seibei Iguchi, a recent widower and impoverished accountant, eschews his responsibilities as a samurai in order to care for his two daughters and ailing mother. But when his clan leaders demand that he take a dangerous assignment, he cannot refuse.
Cast
Hiroyuki Sanada

Rie Miyazawa

Nenji Kobayashi

Ren Osugi

Mitsuru Fukikoshi

Kanako Fukaura

Hiroshi Kanbe

Miki Itô

Erina Hashiguchi