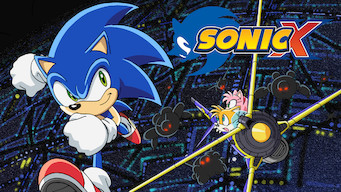 Is
Sonic X: Sonic X: Egg Moon & Emerl & Homebound Saga (2004)
on Netflix New Zealand?
1 / 5 (compiled from 1 review source)
New Zealand Netflix Release: November 30, 2019
Japanese TV Shows, Anime Series, Kids' TV, TV Cartoons, Anime based on a Video Game, Action Anime
Synopsis
While battling the evil Dr. Eggman, Sonic gets caught in an explosion that sends him, his pals and his enemy to the unfamiliar planet Earth. With the help of a young boy, Sonic sets out to find the powerful Chaos Emeralds and defeat Dr. Eggman.
Watch on Netflix
Cast
Suzanne Goldish, Dan Green, Jason Anthony Griffith, Rebecca Honig, Lisa Ortiz, Amy Palant, Mike Pollock, Jack Quevas