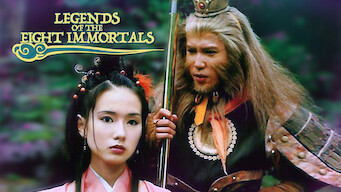 Legends Of The Eight Immortals: Legends Of The Eight Immortals
Netflix Singapore
1 / 5 (compiled from 1 review source)
Singaporean Netflix Release: October 17, 2020
TV Action & Adventure, Period Pieces, Fantasy TV Shows, TV Shows Based on Books, Singaporean TV Shows
Director(s): Edmund Tse
Synopsis
Lü Dongbin must combine his strengths with seven of his fellow Immortals to defeat a demonic sect — that is, if his own heart doesn't get in the way.
Watch on Netflix
Cast
Steve Ma, Phyllis Quek, Jacelyn Tay, Xie Shaoguang, Jerry Chang, Vincent Ng, Yvonne Lim, Deborah Sim, Lin Yisheng, Mai Haowei, Hong Huifang
Legends Of The Eight Immortals: Legends Of The Eight Immortals
Season 1 of Legends Of The Eight Immortals has 30 episodes. Because different Netflix countries have different availability for episodes, you'll need to check the episode listing below to see which are available in Singapore.
You can also click on any episode below to get more information on which Netflix countries it is available in.