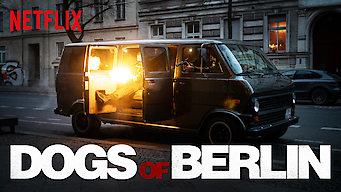 Is
Dogs of Berlin: Season 1 (2018)
on Netflix Singapore?
Singaporean Netflix Release: December 7, 2018
TV Dramas, Crime TV Shows, TV Thrillers, German TV Shows
Creator(s): Christian Alvart
Synopsis
Two cops investigate the murder of a famous Turkish-German soccer player, but one of them has underworld connections that mire the case in controversy. A soccer star turns up dead. Racial tensions erupt. Suspects are everywhere. And the lead investigator? He has his own dirty secrets.
Watch on Netflix
Cast
Felix Kramer, Fahri Yardim, Anna Maria Mühe, Katharina Schüttler, Alina Stiegler, Urs Rechn, Sinan Farhangmehr, Kais Setti, Mohamed Issa, Hauke Diekamp, David Bennent, Deniz Orta, Katrin Saß, Sebastian Zimmler
Trailer