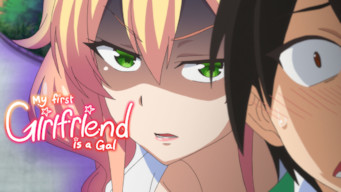 Is
My First Girlfriend is a Gal: Season 1 (2017)
on Netflix South Korea?
1 / 5 (compiled from 1 review source)
South Korean Netflix Release: May 15, 2019
Japanese TV Shows, Anime Series, Shounen Anime, TV Shows based on Manga, School Anime, Romantic TV Shows, Romance Anime
Synopsis
A desperate nerd throws caution to the wind and asks the experienced class hottie out. She says yes, but he's in way over his head. He's a frustrated geek, she's a fun-loving "gal." And she's got him wrapped around her little finger.
Watch on Netflix
Cast
Shintaro Asanuma, Yuki Nagaku, Eri Kitamura, Ayana Taketatsu, Yui Ogura, Toshiyuki Toyonaga, Kenji Akabane, Minoru Shiraishi, Kazusa Aranami, Natsuko Hara
My First Girlfriend is a Gal: Season 1
Season 1 of My First Girlfriend is a Gal has 11 episodes. Because different Netflix countries have different availability for episodes, you'll need to check the episode listing below to see which are available in South Korea.
You can also click on any episode below to get more information on which Netflix countries it is available in.