Yes, Big Mouth, Season My Furry Valentine is available on Netflix in South Korea, but did you know you can unlock thousands of movies and shows not currently available in South Korea? The release date for Netflix South Korea was February 8th 2019, and here are the dates it was released on Netflix in other countries:
Netflix Belgium: Released on February 8th, 2019
Check out this sample list of movies you can unlock through American and International Netflix, including "Parks and Recreation (2009-2011)", "It's Always Sunny in Philadelphia (2005-2013)", and "Terriers (2010)"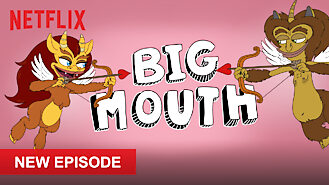 Big Mouth, Season My Furry Valentine
2017
Teenage friends find their lives upended by the wonders and horrors of puberty in this edgy comedy from real-life pals Nick Kroll and Andrew Goldberg. Raging hormones, unruly bodies, awkward romances: Puberty is coming. And it's a filthy beast.
Cast
Nick Kroll

John Mulaney

Jessi Klein

Jason Mantzoukas

Jenny Slate

Fred Armisen

Maya Rudolph

Jordan Peele

Gina Rodriguez

David Thewlis