Yes, Because I Said So is available on Netflix in Spain, but did you know you can unlock thousands of movies and shows not currently available in Spain? The release date for Netflix Spain was February 4th 2019, and here are the dates it was released on Netflix in other countries:
Netflix India: Released on April 15th, 2017
Netflix Portugal: Released on March 1st, 2016
Netflix Netherlands: Released on September 29th, 2014
Check out this sample list of movies you can unlock through American and International Netflix, including "Punch-Drunk Love (2002)", "How to Steal a Million (1966)", and "Midnight in Paris (2011)"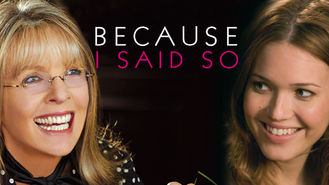 Because I Said So
2007
In an effort to prevent family history from repeating itself, meddlesome mom Daphne sets up her youngest daughter with Mr. Right.
Cast
Diane Keaton

Mandy Moore

Gabriel Macht

Tom Everett Scott

Lauren Graham

Piper Perabo

Stephen Collins

Neil Hopkins

Colin Ferguson

Tony Hale