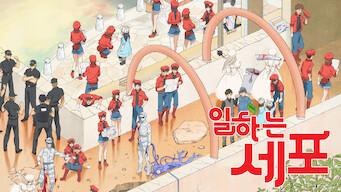 Ist
Cells at Work!: Cells at Work! (2018)
auf Netflix USA?
1 / 5 (zusammengestellt aus 1 Rezensionsquelle)
Japanese TV Shows, Anime Series, Teen TV Shows, TV Shows based on Manga, Action Anime
Zusammenfassung
One newcomer red blood cell just wants to do her job. Between bacteria incursions and meeting a certain white blood cell, she's got a lot to learn! The human body contains approximately 37.2 trillion cells. All of them have their jobs, and those jobs aren't easy.
Kann ohne Freischaltung nicht abgespielt werden
Besetzung
Kana Hanazawa, Tomoaki Maeno, Daisuke Ono, Kikuko Inoue, Maria Naganawa, Takahiro Sakurai, Saori Hayami, Nobuhiko Okamoto, Yuichi Nakamura, Shoya Chiba, M・A・O, Ayako Kawasumi, Aya Endo, Hiroyuki Yoshino, Mamiko Noto
Cells at Work!: Cells at Work!
Staffel 1 von Cells at Work! hat 14 Episoden. Da verschiedene Netflix-Länder unterschiedliche Verfügbarkeiten für Episoden haben, müssen Sie die untenstehende Episodenliste überprüfen, um zu sehen, welche in the USA verfügbar sind.
Sie können auch auf eine der folgenden Episoden klicken, um weitere Informationen darüber zu erhalten, in welchen Netflix-Ländern sie erhältlich ist.