Yes, Bride of Chucky is available on Netflix in the USA, but did you know you can unlock thousands of movies and shows not currently available in the USA? The release date for Netflix USA was December 5th 2018, and it's currently not available on Netflix in any other countries.
Check out this sample list of movies you can unlock through International Netflix, including "The Human Centipede 2 (2011)", "Seed of Chucky (2004)", and "Dawn of the Dead (2004)"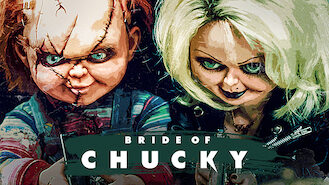 Bride of Chucky
1998
The soul of killer Charles Lee Ray still inhabits the diminutive devil doll, and when his old flame Tiffany finds him, he turns her into a doll as well. Together, the happy couple sets out on a terrifying spree.
Cast
Jennifer Tilly

Brad Dourif

Katherine Heigl

Nick Stabile

Alexis Arquette

Gordon Michael Woolvett

John Ritter

Lawrence Dane

Michael Johnson

James Gallanders