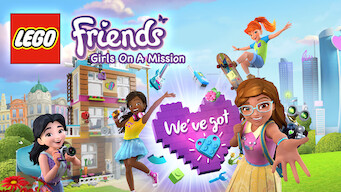 Is
LEGO Friends: Girls on a Mission: Season 1 (2018)
on Netflix Belgium?
1 / 5 (compiled from 1 review source)
Belgian Netflix Release: June 7, 2019
Kids' TV, Kids Music
Director(s): Andrew Tan, Stephen Murray
Synopsis
Five best friends put their teamwork, wits and courage to the test when they take on a mission to protect Heartlake City from some bad people. Away with thieves, cheaters and anyone with a mean heart! These girls are out to make their city a cool place to live.
Watch on Netflix
Cast
Jasmine St. Clair, Allegra Clark, Rosamund Marks, Faye Mata, Kira Buckland, David Roach, Bradley Venable
LEGO Friends: Girls on a Mission: Season 1
Season 1 of LEGO Friends: Girls on a Mission has 16 episodes. Because different Netflix countries have different availability for episodes, you'll need to check the episode listing below to see which are available in Belgium.
You can also click on any episode below to get more information on which Netflix countries it is available in.