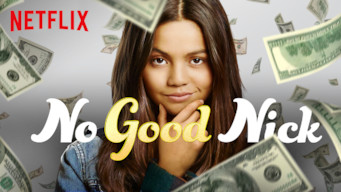 Is
No Good Nick: Part 1 (2019)
on Netflix Canada?
1 / 5 (compiled from 1 review source)
Canadian Netflix Release: April 15, 2019
TV Dramas, Kids' TV, TV Comedies, Family Watch Together TV, Sitcoms
Creator(s): David H. Steinberg, Keetgi Kogan
Synopsis
A family finds their lives turned upside down when a teenage con artist shows up on their doorstep, claiming she's a distant relative. It started as a scam on an unsuspecting family. But somewhere along the line, she grew a conscience -- and things got personal.
Watch on Netflix
Cast
Melissa Joan Hart, Sean Astin, Siena Agudong, Lauren Lindsey Donzis, Kalama Epstein
No Good Nick: Part 1
Season 1 of No Good Nick has 10 episodes. Because different Netflix countries have different availability for episodes, you'll need to check the episode listing below to see which are available in Canada.
You can also click on any episode below to get more information on which Netflix countries it is available in.