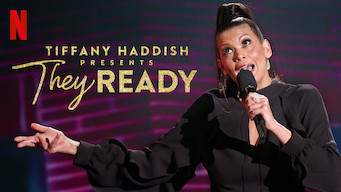 Is
Tiffany Haddish Presents: They Ready: Season 1 (2019)
on Netflix Canada?
Canadian Netflix Release: August 13, 2019
US TV Shows, TV Comedies, Stand-Up Comedy, Irreverent Stand-Up Comedy, Political TV Shows
Creator(s): Tiffany Haddish
Synopsis
Hand-picked by Tiffany Haddish, six diverse comedians showcase their raw humor in a series of specials oozing with energy. Six comics. Zero BS. These uproarious entertainers are putting you all up in their funny business. And they're just getting started.
Watch on Netflix
Cast
Tracey Ashley, Flame Monroe, Aida Rodriguez, Marlo Williams, April Macie, Chaunté Wayans, Tiffany Haddish
Trailer