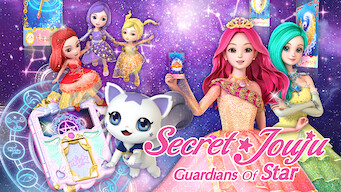 Secret Jouju: Guardians of Star: Season 1
Netflix Canada
1 / 5 (compiled from 1 review source)
Canadian Netflix Release: November 21, 2020
TV Cartoons, Kids' TV, Korean TV Shows
Synopsis
After learning she's the reincarnation of a goddess from another realm, Jouju sets out on a mission with a strange cat to find others like herself. Goddesses from another realm. A magical talking cat. An evil Demon King! Jouju's world is about to turn upside down.
Watch on Netflix
Cast
Park Sun-young, Lee Myeong-ho, Jeong Hye-won, Kim Sae-hae, Um Sang-hyun, Jang Mi, Bae Jin-hong, Lee Ji-hyun
Secret Jouju: Guardians of Star: Season 1
Season 1 of Secret Jouju: Guardians of Star has 24 episodes. Because different Netflix countries have different availability for episodes, you'll need to check the episode listing below to see which are available in Canada.
You can also click on any episode below to get more information on which Netflix countries it is available in.