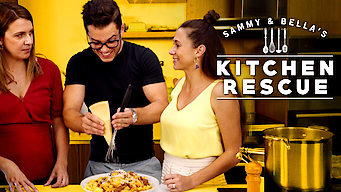 Is
Sammy & Bella's Kitchen Rescue: Season 1 (2018)
on Netflix Canada?
1 / 5 (compiled from 1 review source)
Canadian Netflix Release: February 1, 2019
Lifestyle, Australian TV Shows, Food & Travel TV, Reality TV, Home & Garden TV Shows
Synopsis
Sammy and Bella help a guest in need of a kitchen intervention with genius hacks, savory recipes and time-saving skills for a complete culinary rehab. They're on a mission to fill up plates and tidy up pantries -- saving one unruly kitchen at a time.
Watch on Netflix
Cast
Sammy Jakubiak, Bella Jakubiak
Sammy & Bella's Kitchen Rescue: Season 1
Season 1 of Sammy & Bella's Kitchen Rescue has 12 episodes. Because different Netflix countries have different availability for episodes, you'll need to check the episode listing below to see which are available in Canada.
You can also click on any episode below to get more information on which Netflix countries it is available in.