Yes, Let the Sunshine In is available on Netflix in Canada, but did you know you can unlock thousands of movies and shows not currently available in Canada? The release date for Netflix Canada was December 5th 2018, and it's currently not available on Netflix in any other countries.
Check out this sample list of movies you can unlock through American and International Netflix, including "Jackie Brown (1997)", "The Wrestler (2008)", and "The English Patient (1996)"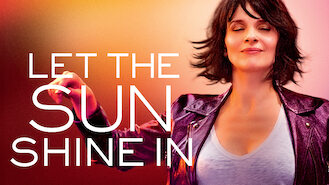 Let the Sunshine In
2017
A divorced visual artist wanders through a series of fraught romances, shedding light on her lovers' psyches -- and her own solitude and desires.
Cast
Juliette Binoche

Xavier Beauvois

Philippe Katerine

Josiane Balasko

Nicolas Duvauchelle

Alex Descas

Gérard Depardieu

Laurent Grévill

Bruno Podalydès

Sandrine Dumas

Valeria Bruni Tedeschi