Yes, Mary and the Witch's Flower is available on Netflix in Canada, but did you know you can unlock thousands of movies and shows not currently available in Canada? The release date for Netflix Canada was December 5th 2018, and here are the dates it was released on Netflix in other countries:
Netflix USA: Released on July 17th, 2018
Check out this sample list of movies you can unlock through American and International Netflix, including "The Girl Who Leapt Through Time (2006)", "Jorden runt på 80 dagar (2004)", and "Fullmetal Alchemist: The Star of Milos (2011)"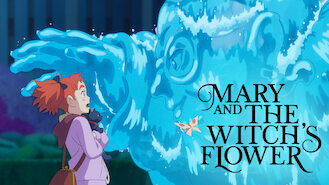 Mary and the Witch's Flower
2017
Ordinary girl Mary picks an extraordinary flower and travels to Endor College, a school for magic. But its foremost teachers have a sinister plan. The head of school tells her she's a prodigy, like all red-haired witches. But she's lying -- and not the only one.
Cast
Ruby Barnhill

Kate Winslet

Jim Broadbent

Ewen Bremner

Lynda Baron

Louis Ashbourne Serkis

Morwenna Banks

Teresa Gallagher

Rasmus Hardiker