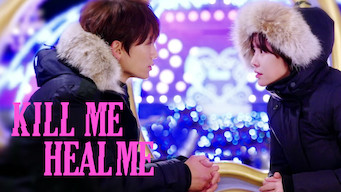 Kill Me Heal Me: Season 1
Netflix Denmark
1 / 5 (compiled from 1 review source)
Danish Netflix Release: October 9, 2019
TV Dramas, Korean TV Shows, TV Comedies, Romantic TV Shows
Creator(s): Jin Su-wan
Synopsis
To be cured of his seven-personality dissociative identity disorder, a rich heir secretly enlists the help of a pretty psychiatric medical resident. He shares his body with six others. To take back control of his life, he must kill them all -- one by one.
Watch on Netflix
Cast
Ji Sung, Hwang Jung-eum, Park Seo-joon, Kim Yoo-ri, Oh Min-suk, Kim Young-ae, Shim Hye-jin, Ahn Nae-sang
Kill Me Heal Me: Season 1
Season 1 of Kill Me Heal Me has 20 episodes. Because different Netflix countries have different availability for episodes, you'll need to check the episode listing below to see which are available in Denmark.
You can also click on any episode below to get more information on which Netflix countries it is available in.