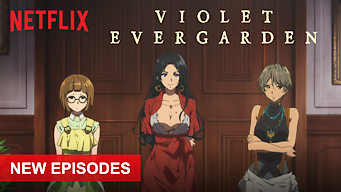 Drama Anime, Anime Series, Japanese TV Shows, Romantic Favorites, Sci-Fi & Fantasy Anime, Romance Anime, Anime based on Light Novels
Synopsis
The war is over, and Violet Evergarden needs a job. Scarred and emotionless, she takes a job as a letter writer to understand herself and her past. A very special person once told her something she didn't understand. He's gone, but she's still trying to learn.
Watch on Netflix
Cast
Yui Ishikawa, Takehito Koyasu, Daisuke Namikawa, Aya Endo, Koki Uchiyama, Minori Chihara, Haruka Tomatsu
Violet Evergarden: Season 1
Season 1 of Violet Evergarden has 13 episodes. Because different Netflix countries have different availability for episodes, you'll need to check the episode listing below to see which are available in Denmark.
You can also click on any episode below to get more information on which Netflix countries it is available in.