Yes, Summer of 84 is available on Netflix in Finland, but did you know you can unlock thousands of movies and shows not currently available in Finland? The release date for Netflix Finland was December 5th 2018, and here are the dates it was released on Netflix in other countries:
Netflix Sweden: Released on December 5th, 2018
Netflix Norway: Released on December 5th, 2018
Netflix Denmark: Released on December 5th, 2018
Check out this sample list of movies you can unlock through American and International Netflix, including "Arrested Development (2006)", "Pan's Labyrinth (2006)", and "The Last Picture Show (1971)"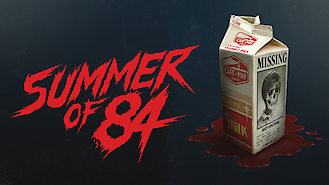 Summer of 84
2018
Convinced his neighbor is a serial killer, a suburban teen recruits three pals to help confirm his hunch, but their investigation soon gets dangerous. He's sure there's a murderer among them. Is he just a kid with imagination overload -- or is he really onto something?
Cast
Graham Verchere

Judah Lewis

Caleb Emery

Cory Gruter-Andrew

Tiera Skovbye

Rich Sommer

Jason Gray-Stanford

Shauna Johannesen

William MacDonald

Harrison Houde