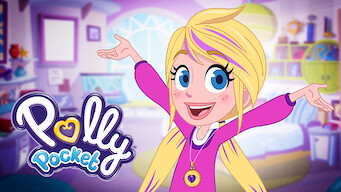 Polly Pocket: Season 1
Netflix France
1 / 5 (compiled from 1 review source)
French Netflix Release: October 15, 2020
TV Cartoons, Kids' TV, Canadian TV Shows
Synopsis
After uncovering a magical locket that allows her to shrink in size, Polly and her friends set out on big adventures with petite power. Tiny power. Big adventures. There is no micro-sized mission she won't tackle in Littleton -- even at four inches tall.
Watch on Netflix
Cast
Emily Tennant, Shannon Chan-Kent, Kazumi Evans, Patricia Drake, Rhona Rees, Ian Hanlin, Maryke Hendrikse, Vincent Tong, David Kaye, Ellen Kennedy
Polly Pocket: Season 1
Season 1 of Polly Pocket has 26 episodes. Because different Netflix countries have different availability for episodes, you'll need to check the episode listing below to see which are available in France.
You can also click on any episode below to get more information on which Netflix countries it is available in.