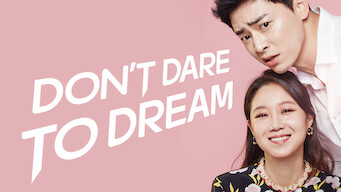 TV Comedies, Romantic TV Comedies, Korean TV Shows
Creator(s): Park Shin-woo, Seo Suk-hyang
Synopsis
A weather girl reunites with her old crush, a haughty reporter at her TV station. But this time, she has her eyes on someone else -- his best friend. Three years ago, she was hopelessly in love, but he crushed her heart -- mercilessly. No making the same mistake twice.
Watch on Netflix
Cast
Kong Hyo-jin, Cho Jung-seok, Ko Kyung-pyo, Lee Mi-sook, Park Ji-young, Lee Sung-jae, Seo Ji-hye
Don't Dare to Dream: Season 1
Season 1 of Don't Dare to Dream has 24 episodes. Because different Netflix countries have different availability for episodes, you'll need to check the episode listing below to see which are available in Germany.
You can also click on any episode below to get more information on which Netflix countries it is available in.