Yes, 7 Days in Entebbe is available on Netflix in Germany, but did you know you can unlock thousands of movies and shows not currently available in Germany? The release date for Netflix Germany was February 3rd 2019, and here are the dates it was released on Netflix in other countries:
Netflix Luxembourg: Released on February 3rd, 2019
Netflix Austria: Released on February 3rd, 2019
Check out this sample list of movies you can unlock through American and International Netflix, including "An Education (2008)", "The Girl with the Dragon Tattoo (2009)", and "Good Bye, Lenin! (2003)"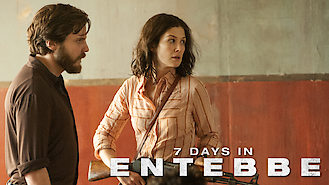 7 Days in Entebbe
2018
When terrorists hijack a flight, the passengers become political pawns and are detained for a week in Entebbe, Uganda, inspiring a daring rescue mission. After an act of terror, their lives depended on an elaborate rescue plan. With time running out, there's no room for error.
Cast
Rosamund Pike

Daniel Brühl

Eddie Marsan

Lior Ashkenazi

Denis Ménochet

Ben Schnetzer

Angel Bonanni

Nonso Anozie