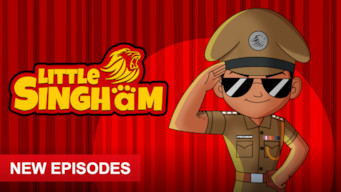 Is
Little Singham: Season 1 (2019)
on Netflix India?
1 / 5 (compiled from 1 review source)
Indian Netflix Release: November 30, 2018
Indian TV Shows, Kids' TV, Hindi-Language TV Shows, TV Comedies
Synopsis
A spinoff of Rohit Shetty's action franchise, this animated series follows brave kid cop Little Singham's adventures as he defends his town from evil. He has the courage of a lion and the swagger of a star -- and is just eight years old. Meet India's youngest supercop!
Watch on Netflix
Cast
Swapnil Kumari, Jigna Bhardwaj, Sonal Kaushal, Neshma Chemburkar, Ganesh Divekar, Shaily Dube, Saumya Daan, Anamaya Verma, Parminder Ghumman, Pawan Kalra
Little Singham: Season 1
Season 1 of Little Singham has 42 episodes. Because different Netflix countries have different availability for episodes, you'll need to check the episode listing below to see which are available in India.
You can also click on any episode below to get more information on which Netflix countries it is available in.