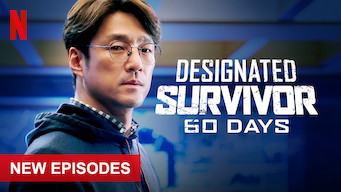 TV Dramas, Korean TV Shows, Political TV Shows
Director(s): Yu Jong-seon
Synopsis
When the National Assembly suffers a catastrophic attack, Minister of Environment Park Mu-jin must find a way to lead Korea through the ensuing chaos. He thinks he doesn't have what it takes to be president. But what the nation needs in this dark hour is a leader.
Watch on Netflix
Cast
Ji Jin-hee, Lee Jun-hyuk, Huh Joon-ho, Kang Han-na, Bae Jong-ok, Kim Gyu-ri, Son Suk-ku, Choi Yoon-young, Lee Moo-saeng
Designated Survivor: 60 Days: Season 1
Season 1 of Designated Survivor: 60 Days has 16 episodes. Because different Netflix countries have different availability for episodes, you'll need to check the episode listing below to see which are available in Italy.
You can also click on any episode below to get more information on which Netflix countries it is available in.