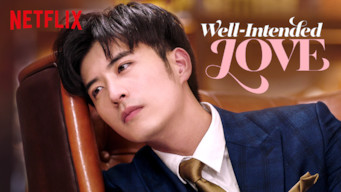 Is
Well-Intended Love: Season 1 (2019)
on Netflix Japan?
1 / 5 (compiled from 1 review source)
Japanese Netflix Release: June 14, 2019
Chinese TV Shows, TV Dramas, TV Comedies, Romantic TV Shows
Synopsis
To secure a bone marrow donation, an actress diagnosed with leukemia makes a marriage pact with a young CEO -- but love and secrets get in the way. It was supposed to be a marriage of convenience. Turns out they're quite a match -- and fall in love. But there's a catch.
Watch on Netflix
Cast
Xu Kaicheng, Simona Wang, Ian Yi, Huang Qian Shuo, Yang Hao Ming, Liu Jia Xi
Well-Intended Love: Season 1
Season 1 of Well-Intended Love has 20 episodes. Because different Netflix countries have different availability for episodes, you'll need to check the episode listing below to see which are available in Japan.
You can also click on any episode below to get more information on which Netflix countries it is available in.