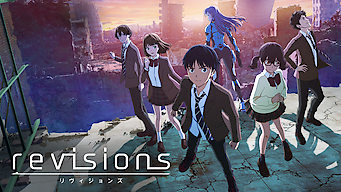 Is
revisions: Season 1 (2018)
on Netflix Japan?
1 / 5 (compiled from 1 review source)
Japanese Netflix Release: January 10, 2019
Anime, Japanese TV Shows, Anime Series, The Most Powerful Anime Characters, School Anime, Sci-Fi & Fantasy Anime, Cyborg & Robot Anime, Action Anime, Cyberpunk, Anime released in 2018
Synopsis
When Shibuya time-warps to 2388, high schooler Daisuke and his friends are conscripted by AHRV agent Milo to fight the hostile cyborg race, revisions. Flung three centuries into the future, Shibuya residents are caught between opposing forces with no clear way to return.
Watch on Netflix
Cast
Koki Uchiyama, Mikako Komatsu, Nobunaga Shimazaki, Rie Takahashi, Manaka Iwami, Soma Saito
revisions: Season 1
Season 1 of revisions has 12 episodes. Because different Netflix countries have different availability for episodes, you'll need to check the episode listing below to see which are available in Japan.
You can also click on any episode below to get more information on which Netflix countries it is available in.