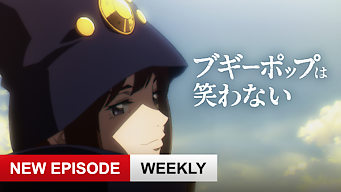 Is
Boogiepop and Others: Season 1 (2019)
on Netflix Japan?
1 / 5 (compiled from 1 review source)
Japanese Netflix Release: January 10, 2019
Anime Series, TV Horror, School Anime, Thriller & Horror Anime, TV Sci-Fi & Fantasy, Anime Sci-Fi & Fantasy, Anime Based on Light Novels
Synopsis
Boogiepop isn't just a rumor. In the body of his friend Touka, the killer phantom tells high schooler Keiji that the world is in danger. The urban legends are all true -- not just Boogiepop, but man-eating monsters, their hunters and more.
Watch on Netflix
Cast
Aoi Yuki, Saori Onishi, Reina Kondo, Chiaki Kobayashi, Shino Shimoji, Ayaka Suwa, Junya Enoki, Aoi Ichikawa, Ayana Taketatsu, Kouki Miyata, Taku Yashiro, Kana Ichinose, Yoshimasa Hosoya, Yoshiaki Hasegawa, Kana Asumi, Yoji Ueda, Kana Hanazawa
Boogiepop and Others: Season 1
Season 1 of Boogiepop and Others has 17 episodes. Because different Netflix countries have different availability for episodes, you'll need to check the episode listing below to see which are available in Japan.
You can also click on any episode below to get more information on which Netflix countries it is available in.