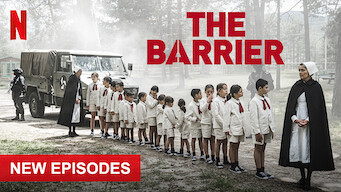 The Barrier: Season 1
Netflix Netherlands
1 / 5 (compiled from 1 review source)
Dutch Netflix Release: September 11, 2020
TV Dramas, TV Thrillers, Spanish TV Shows, Futuristic Sci-Fi, Sci-Fi TV
Creator(s): Daniel Écija
Synopsis
One family's fight for survival in a future dystopian Madrid illustrates the disparity between two worlds separated by a fence — and so much more. Disease. Poverty. A fence. The government tried everything to control them. But there's no greater kindling for rebellion than subjugation.
Watch on Netflix
Cast
Unax Ugalde, Olivia Molina, Eleonora Wexler, Abel Folk, Ángela Molina, Manu Fullola, Daniel Ibáñez, Laura Quirós, Nicolás Illoro, Belén Écija, Juan Blanco, Yaima Ramos
The Barrier: Season 1
Season 1 of The Barrier has 13 episodes. Because different Netflix countries have different availability for episodes, you'll need to check the episode listing below to see which are available in the Netherlands.
You can also click on any episode below to get more information on which Netflix countries it is available in.