The Longest Day is not available on Netflix in the Netherlands, but it can be unlocked and watched on Netflix anywhere worldwide! No release date has been given yet for when it might be available on Netflix in the Netherlands, but here are some countries where it can be streamed online, along with the release date for each country:
Netflix Belgium: Released on February 28th, 2018
Netflix Argentina: Released on January 3rd, 2018
Netflix Canada: Released on September 1st, 2015
Netflix Mexico: Released on March 13th, 2015
Netflix USA: Released on August 1st, 2014
Check out our steps for watching The Longest Day from the Netherlands through Netflix Canada, plus watch American Netflix, through many other countries and more than double your Netflix catalogue!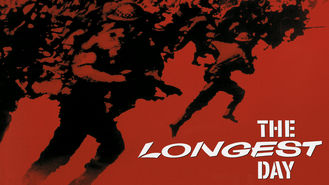 The Longest Day
1962
This Oscar-winning war epic chronicles World War II's harrowing D-Day invasion. Shot on the beaches of Normandy, France, the ambitious film attempts to cover the historic day from all perspectives, focussing on both sides of the conflict.
Cast
John Wayne

Henry Fonda

Robert Mitchum

Rod Steiger

Peter Lawford

Robert Ryan

Sean Connery

Jeffrey Hunter

Mel Ferrer

Richard Dawson

Steve Forrest