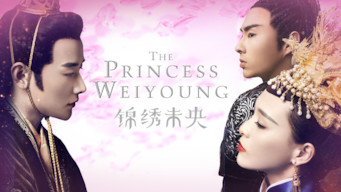 Is
The Princess Weiyoung: Season 1 (2016)
on Netflix Pakistan?
1 / 5 (compiled from 1 review source)
Pakistani Netflix Release: May 9, 2019
Chinese TV Shows, TV Dramas, Period Pieces, Romantic TV Shows, TV Shows based on Books
Synopsis
A princess descended from a ruined noble family disguises herself as the woman who saved her life and embarks on a mission to avenge her loved ones. She lost her loved ones to her enemies -- and now she's living among them. But will her heart get in the way of revenge?
Watch on Netflix
Cast
Tiffany Tang, Luo Jin, Vanness Wu, Rachel Momo, Hsin Ai Lee
The Princess Weiyoung: Season 1
Season 1 of The Princess Weiyoung has 42 episodes. Because different Netflix countries have different availability for episodes, you'll need to check the episode listing below to see which are available in Pakistan.
You can also click on any episode below to get more information on which Netflix countries it is available in.