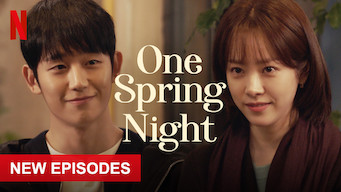 TV Dramas, Romantic TV Dramas, Korean TV Shows
Creator(s): Ahn Pan-seok, Kim Eun
Synopsis
When Lee Jeong-in and Yu Ji-ho meet, something unexpected happens. Or it just may be that spring is in the air -- and anything is possible. They first met by chance. But when their paths cross again on a snowy spring night, there's something unmistakable between them.
Watch on Netflix
Cast
Han Ji-min, Jung Hae-in, Kim Jun-han, Yim Sung-eon, Song Seung-hwan, Kil Hae-yeon, Lee Moo-saeng, Kim Chang-wan
One Spring Night: Season 1
Season 1 of One Spring Night has 16 episodes. Because different Netflix countries have different availability for episodes, you'll need to check the episode listing below to see which are available in Panama.
You can also click on any episode below to get more information on which Netflix countries it is available in.