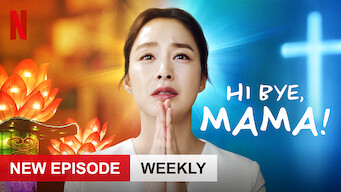 TV Comedies, TV Dramas, Korean TV Shows
Creator(s): Yu Je-won, Kwon Hye-joo
Synopsis
When the ghost of a woman gains a second chance at life for 49 days, she reappears in front of her remarried husband and young daughter.
Watch on Netflix
Cast
Kim Tae-hee, Lee Kyoo-hyung, Go Bo-gyeol, Shin Dong-mi, Seo Woo-jin, Lee Si-woo, Oh Eui-sik, Ahn Nae-sang, Kim Mee-kyung, Park Su-young, Kim Mi-su, Yoon Sa-bong
Hi Bye, Mama!: Season 1
Season 1 of Hi Bye, Mama! has 16 episodes. Because different Netflix countries have different availability for episodes, you'll need to check the episode listing below to see which are available in Panama.
You can also click on any episode below to get more information on which Netflix countries it is available in.