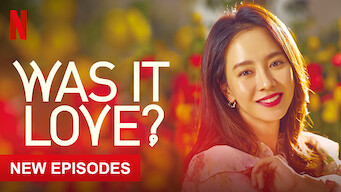 Was It Love?: Season 1
Netflix Panama
1 / 5 (compiled from 1 review source)
Panamanian Netflix Release: July 8, 2020
TV Comedies, TV Dramas, Romantic TV Comedies, Romantic TV Dramas, Korean TV Shows
Creator(s): Kim Do-hyung, Lee Seung-jin
Synopsis
When four very different men appear in her life, a single mother who hasn't dated in years begins to rediscover love — and herself. Raising a daughter. Chasing lifelong dreams. No time for romance — until it finds her in the messiest of ways.
Watch on Netflix
Cast
Song Ji-hyo, Son Ho-jun, Song Jong-ho, Koo Ja-sung, Kim Min-jun, Kim Da-som, Kim Mee-kyung, Um Chae-young, Kim Young-ah, Kim Byung-choon
Was It Love?: Season 1
Season 1 of Was It Love? has 16 episodes. Because different Netflix countries have different availability for episodes, you'll need to check the episode listing below to see which are available in Panama.
You can also click on any episode below to get more information on which Netflix countries it is available in.