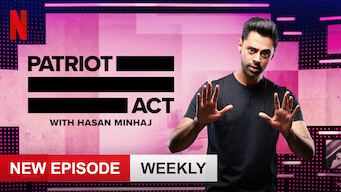 Is
Patriot Act with Hasan Minhaj: Volume 5 (2019)
on Netflix Panama?
1 / 5 (compiled from 1 review source)
Panamanian Netflix Release: November 10, 2019
US TV Shows, TV Comedies, Talk Shows, Political TV Shows
Synopsis
Every Sunday, Hasan Minhaj brings an incisive and nuanced perspective to global news, politics and culture in his unique comedy series. In a fragmented world, Hasan's the voice we need. A fresh, funny and eye-opening look at global issues that matter, every Sunday.
Watch on Netflix