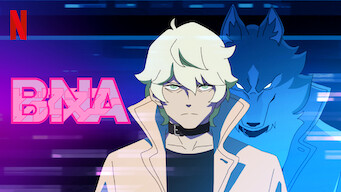 BNA: Season 1
Netflix Portugal
1 / 5 (compiled from 1 review source)
Portuguese Netflix Release: June 30, 2020
Action Anime, Anime Series, Japanese TV Shows, Sci-Fi & Fantasy Anime
Synopsis
Morphed into a raccoon beastman, Michiru seeks refuge, and answers, with the aid of wolf beastman Shirou inside the special zone of Anima-City. Beastmen thriving in their own haven apart from humans. With help from a wolf, one raccoon girl searches for answers.
Watch on Netflix
Cast
Sumire Morohoshi, Yoshimasa Hosoya, Maria Naganawa, Kaito Ishikawa, Gara Takashima, Michiyo Murase
BNA: Season 1
Season 1 of BNA has 12 episodes. Because different Netflix countries have different availability for episodes, you'll need to check the episode listing below to see which are available in Portugal.
You can also click on any episode below to get more information on which Netflix countries it is available in.